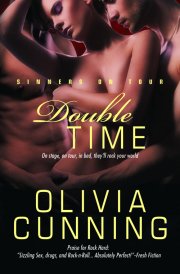 My rating:
3 out of 5 stars
"Move with me, Reagan. I feel...connected. Like I need you in order to recognize myself."
~Trey Mills
In some ways, I don't even want to do this review. It took me forever to decide on a rating. I went back and forth, over and over again before I finally settled on three. I went with three because I feel like I'm dead square in between loving and loathing it. The first 60% or so, I was hooked, line and SINNER. Without a doubt, my favorite pairing in this final Sinners installment is the Mills brothers. Each and every scene with Dare and Trey trumped everything else and I really, truly hope for some Trey cameos in Dare's series that Ms. Cunning has on tap.
The beginning of the book is very bitter sweet and stirred my emotions immediately. The continuous Trey/Brian situation has never been an easy one and if you have a soft spot for those two, even if you're happy with Brian's HEA, be prepared for some sniffles, while I'm not Myrna's biggest fan (just not fond of the character) she earned some brownie points with me with her genuine concern for Trey and his feelings.
Reagan had the makings to be one, if not my absolute favorite female in this series. I love how she was introduced. I love how she's a little on the tomboy side by some standards. She's not into nails and heels, doesn't give shit either way and of course the fact that she's a huge talent was a nice change in this series. Trey, what can you say about Trey? He's just...yeah. I didn't like how he decided to handle Reagan in the beginning but how he pursued her, his desperate attempt at winning her verses taking her and then ultimately leaving her...serious fangirling. She's so perfect for him and their initial scenes had so much chemistry, the banter and her ability to go toe to toe with him had Mr. Mills swooning as well.
Enter Ethan...
I could not, for the life of me, warm up to his character. I never got past the feeling that he was a little shady and was playing both sides. This is Trey's story however and even the cover lets you know what's to come but even so, how it all came together just didn't quite work for me. Reagan and Trey's growing relationship was somewhat of a slow burn (compared to some of the previous pairings in this series) there was a lot of heart, a lot of "baby steps" if you will. Both have trust issues, both fell into something with one another that they weren't expecting. I had a hard time accepting the fact that Reagan and Ethan had remained roommates and "best friends" after all that happened between them. A break up is one thing but a betrayal? hmm...once Ethan came into the picture, everything became oh so convenient. Every one's hang ups all of a sudden disappeared. What was initially really great pacing became rushed so as to get to the finish line with a pretty little bow on top.
If any Sinner deserved his happily ever after, it's Trey. That being said, for this entire series he has been notorious for loving ONE person. Only one person for over ten years and has never received that love back in return. But I'm supposed to buy into this? Times two? It was too much, too fast. I would have preferred a "Six months later". Oh well, it happens. The steam factor, however, was OFF THE CHARTS. I guess for me, I wanted more for Trey. The boys however, their dynamic remained the very best part of this series all the way to the end.
Trey Mills remains one of, if not THEE best "rock star" character in this genre. For me, it has nothing to do with his bisexuality. It's his heart, his passion, his strength and his vulnerability. Ms. Cunning did an amazing job over the course of five books building the perfect, imperfect character. Oh I will miss him so!